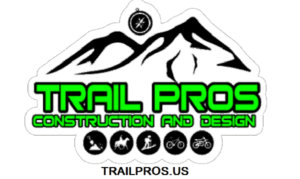 When you love what you do it shows and that best describes TrailPros
Whether we are blazing trail for Horses or ATV's although the needs are different our foundation of principles remains the same:
To craft trails in a responsible manner
To design trails with the future in mind
To be cognizant of our footprint
To be safe and promote safety
To be creative yet realistic
To keep the needs of our clients in mind
~
We love building and maintaining trails for people to enjoy. When people get together and enjoy the outdoors on trails we have built and memories are made, it is inspiration to keep building, keep improving and keep trail blazing. Our trails are thought-out, to capture views or take advantage of elevation changes – they seem to flow effortlessly and make sense – maximizing the experience, all the while understanding  how to take care of the land and work responsibly on it.
We look forward to working with you on your project.
 Please click on the "OUR SERVICES" section below for further information…Happy Trails!